Local SEO Rank Trackers Compared
When Local Falcon launched a few years ago, it was the first grid-style Google Maps rank tracker available. As local SEO becomes increasingly prominent, spotlighted by Google's continual march in the direction of favoring proximity, even traditional national SEO tools are beginning a foray into local tracking tools.
At Local Falcon, we know that just because you are the first to do something, doesn't mean you'll always be the best, so it's only fair to take a hard look at our competitors to really see how functionality is stacking up. Recently we added a lot of utility to the Local Falcon platform: bulk scanning, long-sought-after reporting configurations, a new pricing model, and much, much more. Then we subscribed to all the competitors to see if anyone was catching up.
In summary, no. No one compares and it's clearer than ever to make a platform choice for local rank tracking. Combine grid-tracking, automated reports, clever trending tools, indispensable KPIs, and location competition insights, all at a price-point that's 92% better-- and you'll see how the NEW Local Falcon gives you what you want to know with easy set-up and decipherable data. 
We will break down the findings feature by feature but competitors to Local Falcon come in only three varieties:
The big national, organic

 

SEO tool-makers you love

 

(who created a local SEO rank tracking add-on when local SEO started stealing the national spotlight.) These tools are under-powered and based on single-point tracking usually at a zip-code centroid.
The copycats.

 

They came to the local SEO stage a little late in the game. They emulate the rank tracking style of Local Falcon but the functionality isn't baked in.
The industrial set.

 

These tools are very good but you'll feel like you are working in the underbelly of the internet code itself because it's cumbersome, takes a behemoth set-up that is not intuitive nor streamlined, and costs a small fortune. The price-tag alone makes this choice a complete barrier.
The Big SEOs:
Now, if you are familiar with local SEO you most likely have heard of BrightLocal,  Whitespark, and Moz., who have long specialized in organic, website, national SEO. Their tools are geared toward increasing web traffic through organic SEO, not so much local SEO. But seeing the local search trends, most have added a local rank tracking in their toolset. Ultimately, the big disadvantage to their local SEO method is that it's based on single-point tracking, which with the advent of grid tracking, is supremely outdated. Single-point cannot emulate search from points within the location's geo-fence and renders the data all but useless. Consider this option as the national SEO's nod to the world of local. But if you need serious local insights, you'll need grid-tracking. 
Read up on why grid style local tracking is the only one that makes sense
The Copycats
Beware of look-alikes. Counterfeits are rarely as valuable as the originals and this remains the case here. At Local Falcon, we get asked regularly about a competitor with a similar name. Their offering is similar to the toolset of Local Falcon and our parent company dbaPlatform, but their bundles are less flexible, more expensive, and definitely don't include the reporting automations and at-a-glance metrics to make your life easy. Importantly, reputation is probably the deciding factor here. Leagues of brands and agencies clamor to Local Falcon after poor experiences with the copycats. Enough said.
In comparison, Local Falcon was created by respected professional SEO Yan Gilbert.  Yan is one of only a handful of Google My Business Platinum Product Experts, and you can find him listed on Google itself:
https://support.google.com/business/answer/2449544?hl=en
Becoming a GMB Product Expert takes hundreds of hours of volunteering time on the GMB support forum to help users navigate the ever-changing Google landscape related to local businesses.
The Industrial Set
This is still the poorest choice in terms of bang for the buck. Think powerful and ugly, like the mechanics of the internet when it was a blinking light on a green screen. There is at least one overly-complicated and manual toolset from the industrial group. While originally built for lead generation and adapted to rank tracking, we've been curious to see if they could clean up the user interface and add the features to enhance the user experience. 
Not yet. And the cost is prohibitive because the set includes functionality beyond the scope of local rank tracking and even rank optimization. It's a hodgepodge of tools mashed together which contributes to their difficult UI. This is a very niche offering that requires a sincere training investment. That being said, they do have a robust maps scanning feature, but it'll take you 10x the time to set everything up compared to Local Falcon and there is just no way to just run a quick scan without going through the entire setup process. If you are looking for efficiency, the industrial set is not what you want.
Features Compared
Local Falcon rank tracking is not an add-on like with Moz and other larger SEO tool SAAS companies. Rank tracking is what we do, and what we do best. Our focus is to be the ultimate solution for Google Maps tracking and reporting.
Local Grid Tracking vs Traditional Rank Tracking
To make it an even easier decision, the other rank trackers in the industry have an outdated model for keeping pace with how a business is ranked on Google. Traditionally, when there were only 'ten blue links' on a typical Google search page result, it worked well.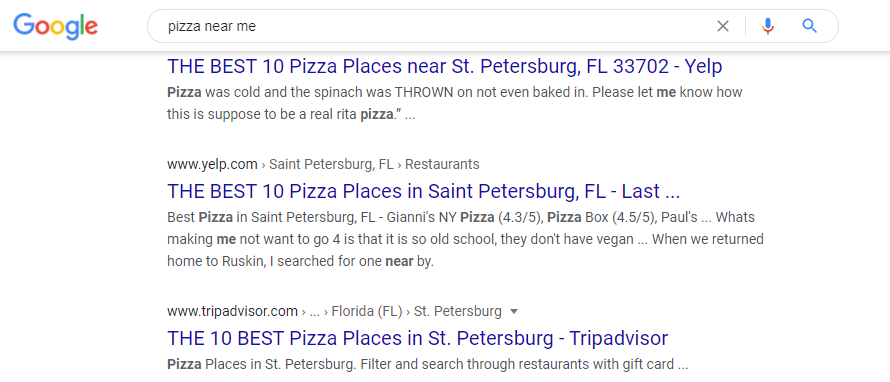 A traditional "ten blue links" Google SERP
The rank tracker would check the position of a keyword, usually every day and you would be able to graph this over time to see improvements or declines.

Traditional single-point line-graph keyword rank tracking. 
However, the Google Maps algorithm is highly proximity based. So even if you localize a search to a specific point, you will be checking the rankings from that one spot only. A searcher a mile away will receive a completely different set of ranking results.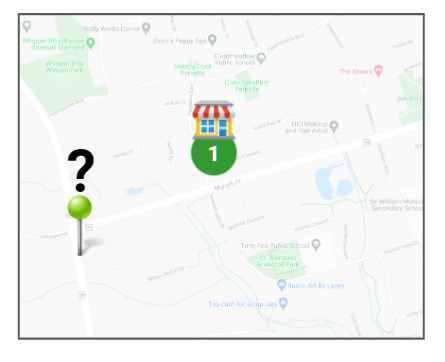 Single point tracking only checks keyword ranking at the business's address and not the service area. How does this location rank half-a-mile away from it's front door? 
Companies like Moz, BrightLocal, Whitespark all still rely on the old style rank tracking system. But this requires you to visually compare graphs for each location checked. Comparing many different graphs over time and getting any meaningful information out of them is almost impossible.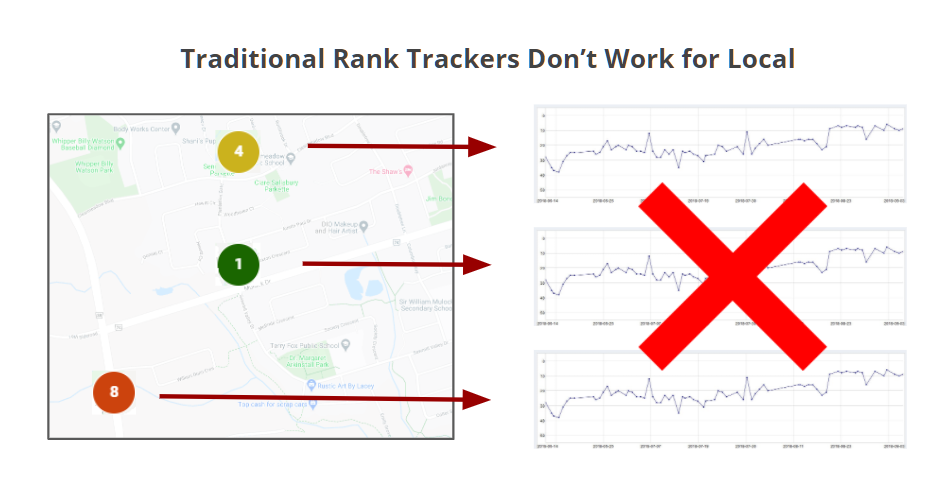 Managing all the single point rank tracking graphs is not suitable for local SEO.
Local Falcon on the other hand can check hundreds of individual locations at once and displays the results in a glance.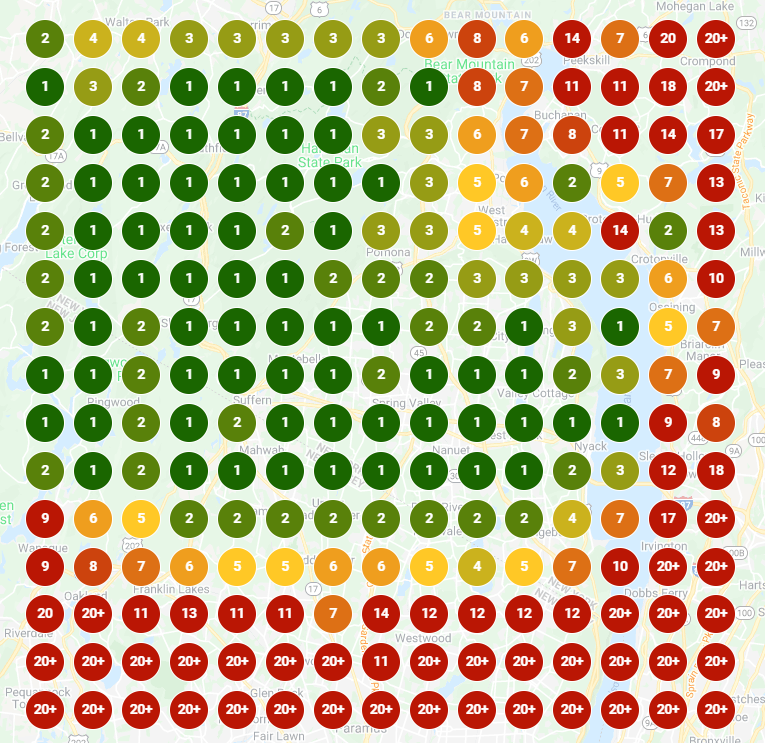 A 15x15 rank grid from Local Falcon. The business's location is in the center.
Can you imagine comparing hundreds of tracking points over time with individual line graphs!
Now, that you understand your geographic reach-- how would you like to see the trend over time? Comparing rankings with a grid-style rank tracker over time easily shows you what areas of a city your rankings are improving.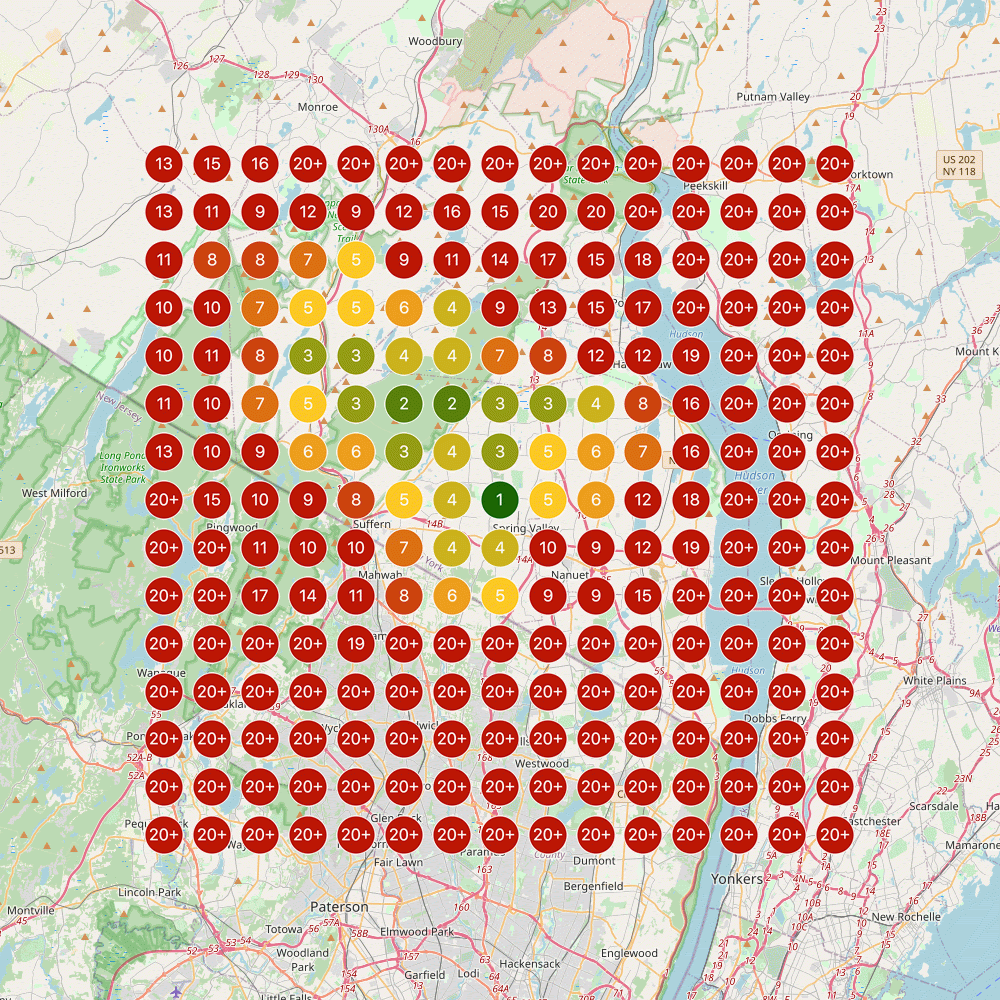 Trend reporting from Local Falcon. See how a business ranks, over time, in its service area.
As you can clearly see, grid-style tracking is a revelation compared with traditional style rank tracking for Google Maps results.
Try the Best Local Rank Scanner with Free Credits 
Need to know how your location ranks in its service area? Do you want to track ranking over time in an easily digestible and visually pleasing report? Create an account with Local Falcon and import your Google My Business profiles for free. New accounts get 100 promotional credits, so start scanning for amazing insights now!