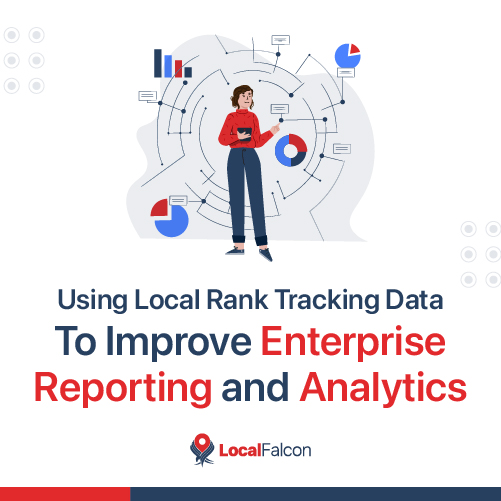 When it comes to analyzing and reporting on an enterprise organization's online presence and digital marketing strategy performance, local rank tracking is something that no business should overlook.
In fact, using a local rank tracker is one of the best ways enterprises of all types and sizes, from small- and mid-sized B2C and B2B companies to large government organizations, can improve their reporting and analytics processes.
Local rank tracking data provides valuable insights that can help streamline reporting, allowing enterprise marketing teams to provide better data visualization, create more comprehensive reports for stakeholders, and effectively track key local SEO performance indicators.
How Can a Local Rank Tracker Improve Enterprise Reporting and Analytics Processes?
Local rank tracking is the practice of monitoring a business's search engine rankings for relevant search terms in specific geographic areas.
For enterprise organizations, especially those with multiple locations, reporting on local SEO performance can quickly get complicated and time-consuming, not to mention harder for stakeholders without a deep understanding of local search to comprehend.
A local rank tracker tool provides a centralized dashboard where enterprise marketing teams or marketing agencies they work with can scan for and store a plethora of local ranking data related to all of a business's locations, services, and other target keywords.
Local rank trackers provide a number of ways to download, view, and share this essential data, making it easier for marketers to put together comprehensive, visual reports that stakeholders can understand, and easily deliver these reports at regular intervals to show progress, track performance improvements, and optimize strategies.
The Importance of Data Visualization Tools
Raw data can be overwhelming for many stakeholders, making it difficult for them to grasp critical insights quickly and in turn slowing down decision making. 
Data visualization tools, such as local rank tracking grids that clearly show how visible a business is for certain keywords in a specific location, play a crucial role in simplifying complex data and converting it into actionable insights. 
By incorporating local rank tracking data into their routine data delivery assets, enterprise reporting and analytics teams can create visually engaging reports that stakeholders can understand and use to support data-driven decision-making processes.
The data visualization provided by a local rank tracker allows stakeholders to:
Identify trends and patterns: Stakeholders can quickly spot trends and patterns in local rank tracking data, helping them understand how local marketing strategies are guided.
See performance over time: Stakeholders can see how keyword rankings change over time, facilitating an understanding of progress and setbacks in digital marketing efforts.
Compare performance against competitors: Stakeholders can visually compare the enterprise's performance against competitors in different locations, gaining valuable competitive insights that can help drive business decisions.
Generating Comprehensive Reports for Stakeholders
Effective reporting is vital for communicating the impact of SEO efforts on business performance. 
However, in enterprise organizations, generating comprehensive reports can be a challenging task, especially when marketing teams are getting data from a variety of disparate sources and trying to put it all together in a coherent manner to influence marketing and business decisions. 
Leveraging the centralized local SEO data from a local rank tracker helps marketers streamline comprehensive reporting by:
Providing location-specific insights: Local rank tracking data enables the reporting team to break down the performance of each location, helping stakeholders understand how SEO efforts influence individual branches.
Helping form tailored recommendations: By analyzing local rank tracking data, enterprise reporting teams can provide tailored recommendations to improve search rankings and organic traffic for specific locations, taking into account regional preferences and trends.
Allowing for enhanced transparency: By including local rank tracking data in the reports, enterprise marketing teams can demonstrate the effectiveness of their digital marketing strategies and the ROI on SEO efforts, thereby increasing transparency and building trust.
Tracking Key Performance Indicators
Measuring the right KPIs is crucial for evaluating the success of any SEO strategy. Local rank tracking data empowers enterprise reporting and analytics teams to track KPIs that are closely tied to the organization's business objectives. 
Some essential KPIs that local rank tracking data can help enterprises monitor include:
Multi-location search rankings: Tracking keyword rankings across different locations enables enterprises to gauge their visibility in local search results and make necessary optimizations to improve local SEO for the locations that need it most.
Organic search traffic: Local rank tracking data allows businesses to connect their search rankings with traffic, helping them understand how search performance impacts user engagement and website visits.
Conversion rates: By integrating local rank tracking data with other marketing analytics, enterprises can analyze conversion rates based on location-specific search traffic, guiding them in refining their marketing strategies to drive more conversions.
Wrapping Up
In today's digitally-driven business world, incorporating local rank-tracking data into deliverables has become an integral part of enterprise reporting and analytics processes. 
The insights to be obtained from local rank tracking data not only aid marketers in creating more visually engaging reports, but also provide stakeholders with actionable information that allow them to make more data-driven decisions. 
By effectively using local rank-tracking data visualization tools, generating more comprehensive reports, and tracking key performance indicators, enterprise marketing teams can streamline their reporting and analytics efforts and ensure that even stakeholders who aren't experts in SEO can understand the information presented to them.
Local Falcon Is the Ideal Local Rank Tracking Solution for Enterprise Businesses
Local Falcon is a local rank tracker built specifically for enterprises and their marketing teams. It allows stakeholders to easily visualize how their business is ranking in highly-specific geographic areas for different relevant search terms, as well as see how competitors are performing to identify opportunities and challenges.
There are a wide range of report types you can leverage in Local Falcon, including scan, competitor, trend, keyword, and location reports. Marketing teams can save time by setting up recurring Auto Scans through the Campaigns or Bulk Scans tools, allowing them to obtain local rank tracking data at regular intervals to quickly update reports and get them in front of everyone who needs to see them.
If you're looking for the perfect solution to improve your enterprise reporting and analytics processes, try Local Falcon today!