Another month, another new feature here at Local Falcon! 
This month we're excited to share with you two new ways to send Local Falcon Reports to Looker Studio, making it easier than ever to take advantage of our powerful Looker Studio integration.
Using the Export to Looker Studio Button When Viewing Reports
You can now send Local Falcon Reports directly to Looker Studio using the "Export to Looker Studio" button (

) located in the top right-hand corner of Scan, Trend, Keyword, and Location Reports.
Clicking this button previews the report you're viewing in Looker Studio, so you can create a local copy using the edit and share button.
Using Looker Studio Templates to Send Reports
The next way you can send Reports from Local Falcon to Looker Studio is by using one of our new Looker Studio Templates.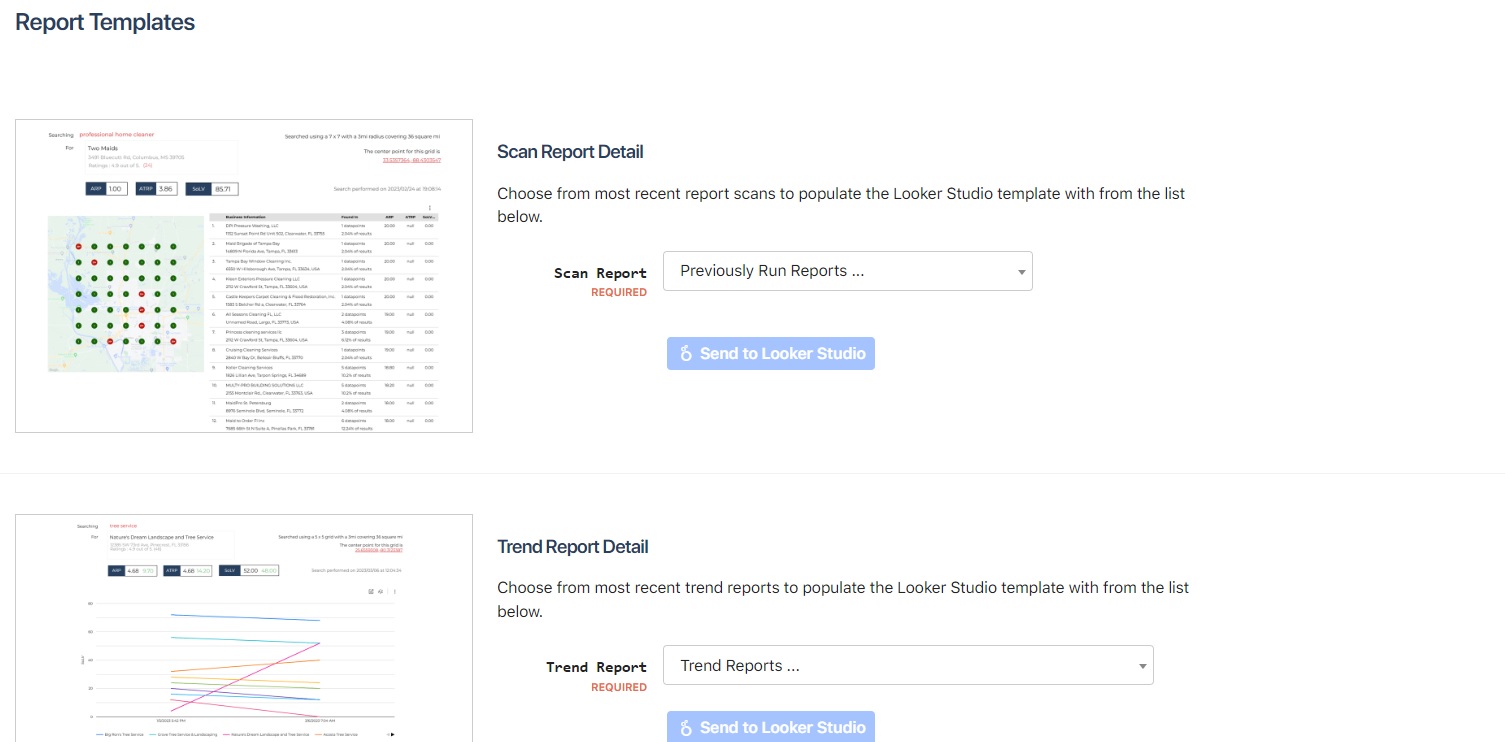 We know Looker Studio can be a bit tricky to use, especially if you're new to it, which is why we've built out some handy data visualization templates to make your life easier when sending Reports to Looker Studio from Local Falcon.
There are Looker Studio Templates for most of Local Falcon's Report types, and you can see a preview of how each one of them looks just to the left of each Looker Studio Template's name.
Exporting a Report to Looker Studio using a Template is simple — just select the Report you want to send from the drop-down below any Template name and hit the "Send to Looker Studio" button right below that.
Reports sent using Looker Studio Templates are also fully downloadable, editable, and shareable.
You can find out more detailed step-by-step instructions in our How To Use Local Falcon's Looker Studio Templates knowledge base article.
Don't miss out on Local Falcon's Looker Studio integration!
Using Local Falcon and Looker Studio together is a great way to generate different types of highly visual reports for your Local Rank Tracking data.
To use this integration, you'll need to sign up for Local Falcon's Basic plan (or higher) and log in to Local Falcon using a Google Account.
Once you do that, sending all the Local Rank Tracking Reports you want to Looker Studio will be a breeze using one of the two methods we discussed above!